| | |
| --- | --- |
| | |

Conflex E-250A Automatic

The E-250A is engineered for flexibility with logic and precision. As product is fed onto the conveyor, electric eyes measure and advance it to the centerfolded film and into the sealing cycle. To prevent the next package from entering during the sealing cycle, the belt advance is temporarily deactivated. When the sealing jaw opens, the advance is reactivated and the wrapped product is discharged into the shrink tunnel. It's logical. It's precise. It's flexible.

Standard Features:

PLC touch pad w/recipe capabilities
Tooled steel hot knife sealing system eliminates wire replacement
Fully automatic package length adjustment via horizontal or vertical electric eyes
Film selvage winder
Adjustable height legs and casters
Waist level film cradle with power unwind
Perforator wheels for air evacuation
Film miser/Film support bar
Variable speed conveyors w/soft start
Adjustable center seal and stroke
Film speed up to 100Fpm

Options:

Scrap break detect system
Pneumatic hole punch
Product staging
Wide band seal system
Print registration
Anti-stat system
Film centerfolder
Cassette/CD hopper
Custom infeeds
Lower heated seal pad
Closing conveyor

Versatility:

Product is transferred by conveyor belt - no pusher
Seals most films - polyolefin, PVC and polyetheylene
Smooth product transfer allows wrapping of non-rigid products
Fully automatic operation requires little or no operator assistance
Extended exit conveyor for smooth product discharge

Specifications: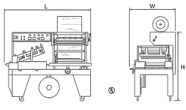 Seal Dimensions: 19"W x 24"L

Machine Dimension: 80"L x 59"W x 57"H

Net. Weight: 900 lbs.

Max. Pkg. Ht: 8" w/center sea

Max. Film Width: 27"

Electrical: 220V, 20A, 1ph

Caster Ht.: 34 3/4"

Air Requirements (min.): (min.) 1CFM @ 80 P.S.I.

*Package height, width, and length are interdependent of each other.